Sep 20, 2022
I've read a lot of bookish books in the past couple of years, but I think the fall of 2022 is going to go down as an epic season of bookish delight. With authors like Mollie Rushmeyer, Pepper Basham, and Amy Lynn Green, how could it not? Listen in to find out what bookish books I'm most looking forward to plus some super-cool bookish news!
Note: links may be affiliate links that provide me with a small commission at no extra expense to you.
Why These Delightful Bookish Books Are Perfect For Your Autumn TBR
Oh, boy! Do you know what happens the moment you realize that the bookish book you're reading is the SECOND one releasing this fall, there's a third one out there, and... you're releasing one, too?
I'll tell you. You throw your podcast plan out the window and record a "you've gotta see this" episode. So I did. And here you go. Four bookish books you will not want to miss this autumn (even if one of them is mine!).
First up...
Look, here's the deal I'm in the middle of this book, and it has me coming back for "just one chapter" when I should be writing "just one more" of my own! I LOVE the characters, the setting, and all the secrets. I love that this is one of those delightfully bookish books that doesn't just happen to take place in a bookstore or library. No, the essence of books permeates every page. They're the answers to secrets. They're lost treasure and potentially the map to other treasure. But more than those, they're solace to the hurting and joy to everyone. Can you see that I love this book? I'm only halfway through, but it's five stars all the way.
A collection of lost books holds the clues to her family's legacy

…

and her future.
Hope Sparrow has mastered the art of outrunning her tragic past, learning never to stay anywhere too long and never to allow anyone control over her life again. Coming to Wanishin Falls in search of her family's history already feels too risky. But somewhere in the towering stacks of this dusty old bookshop are the books that hold Hope's last ties to her late mother—and to a rumored family treasure that could help her start over.
Only, the bookshop is in shambles, and the elderly owner is in the beginning stages of dementia and can't remember where the books lie. To find the last links to the loved ones she's lost, Hope must stay and accept help from the townsfolk to locate the treasured volumes. Each secret she uncovers brings her closer to understanding where she came from. But the longer she stays in the quaint town, the more people find their way into the cracks in her heart. And letting them in may be the greatest risk of all…
And then we have...
I LOVED Amy Lynn Greene's first book, Things We Didn't Say, and really liked her second, but this one... I mean, who can resist bookish books? Like I said, I haven't read this yet, but look at the synopsis!!!
In 1942, an impulsive promise to her brother before he goes off to the European front puts Avis Montgomery in the unlikely position of head librarian in small-town Maine. Though she has never been much of a reader, when wartime needs threaten to close the library, she invents a book club to keep its doors open. The women she convinces to attend the first meeting couldn't be more different--a wealthy spinster determined to aid the war effort, an exhausted mother looking for a fresh start, and a determined young war worker.
At first, the struggles of the home front are all the club members have in common, but over time, the books they choose become more than an escape from the hardships of life and the fear of the U-boat battles that rage just past their shores. As the women face personal challenges and band together in the face of danger, they find they have more in common than they think. But when their growing friendships are tested by secrets of the past and present, they must decide whether depending on each other is worth the cost.
Also: It's available as preorder at 40% off and free shipping from Baker Book House (I was wrong about it not being one of theirs!). You can learn more about Amy Lynn Green on her WEBSITE.
Next up:
As I said, this bookish book is an instant five-star read for me. I loved the characters, the relationships, and something I didn't say in the episode but in my review... I LOVED that when one person does something wrong, the other person doesn't feel obligated to assume part of the blame. Instead, acceptance and forgiveness are allowed to shine beautifully without muddying the "whose right/wrong here" thing.
Trust me... it's important.
Dear Reader, My name is Isabelle Louisa Edgewood—Izzy, for short. I live by blue-tinted mountains, where I find contentment in fresh air and books. Oh, and coffee and tea, of course. And occasionally in being accosted by the love of my family. (You'll understand my verb choice in the phrase later.) I dream of opening my own bookstore, but my life, particularly my romantic history, has not been the stuff of fairy tales. Which is probably why my pregnant, misled, matchmaking cousin—who, really, is more like my sister—signed me up for an online dating community.
The trouble is . . . it worked. I've met my book-quoting Mr. Right, and our correspondence has been almost too good to be true. But Brodie lives across an ocean. And just the other day, a perfectly nice author and professor named Eli came into the library where I work and asked me out for a coffee. I feel a rom-com movie with a foreboding disaster nipping at my heels.
But I've played it safe for a long time. Maybe it's time for me to be as brave as my favorite literary heroines. Maybe it's time to take the adventures from the page to real life. Wish me luck.
Authentically,
Izzy
Witty, hilarious, and heartwarming contemporary romance about book lovers

A sweet, kisses-only romance

An epistolary novel written mostly in emails and texts

Stand-alone novel

Book length: approximately 105,000 words

Includes discussion questions for book clubs
You can find out more about Pepper Basham on her WEBSITE. Furthermore, you can preorder her book from Baker Book House at 20% off AND if you order The Blackout Book Club at the same time, you'll get free shipping.
And finally...
Twice Sold Tales by Chautona Havig (hey... I've heard of her!) on November 2, 2022!
If only owning a bookstore didn't mean dealing with people.
No one was more surprised than Harper Brevig when Great Aunt Lorene (not "Lori," thank-you-very-much) died and left her least favorite niece her bookstore–including a prime piece of real estate in downtown Red Wing, Minnesota.
Making a go of the place shouldn't be too hard. With her library science degree, she should be set. Then again, the website describing library degrees had said it would teach her excellent communication skills. It had not. Could she get a partial refund?
Still, owning the building should mean crazy-low overhead to offset her less than optimal "book-side" manner. Ahem. So when yet another huge bill arrives, and she starts getting twitchy about the low bank balance, Harper does the only thing she can think of.
Enter Milton Coleridge. He'd been excited about the possibilities of the store last year, but Harper had sent him packing before he could talk to her about them. Now he has a chance to make a difference. But she's right. She's bleeding money, and it doesn't make sense!
Milton's job is to figure out what's going on, plug the financial leak, and maybe… do a little matchmaking. That dad with the adorable little boy would be good for her… and she'd be good for him. Probably.
Twice Sold Tales: the first full-length novel in the Bookstrings series releasing with The Mosaic Collection
And, stay tuned for bookish merch. Here's a sneak peek at one of the T-shirt designs...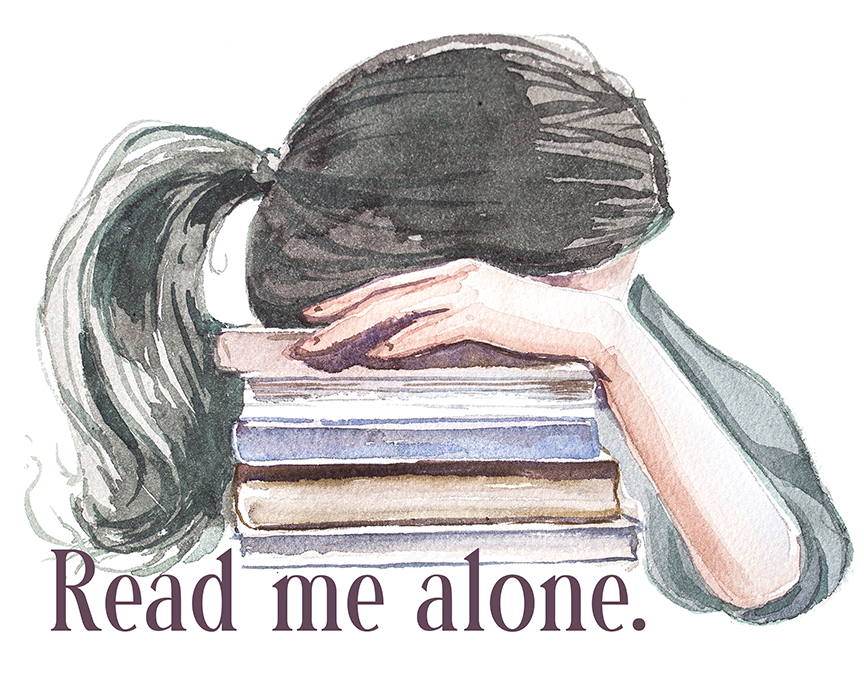 I hope you'll love Harper Brevig and her bookstore, Twice Sold Tales, as much as I do!